How to Write Fresher Resume Format Download in Ms Word : This article is focused again towards students most common question asked by student is how to write my cv as I don't have any experience.
so let's tackle this problem today so my today's agenda is explain how to write cv show you the new cv template and at the end I'll share my tips.
so let's first understand why you write cv?
Because you want to sell yourself and tell yourself and your hiring managers that you're better than other candidates.
so let's go through each step now and discuss each section of cv in detail.
CV Format for Freshers in Word
#1 First is cv template your cv will be read by your hiring manager and hr colleagues.
you need to remember that they would receive a lot of application for one job pose so your cv should be grab attention.
so that the first thing you need to think of the right cv template.
Please do not use the old tradition format in fact be creative and use something which is different from the crowd like this colorful template as shown on the image –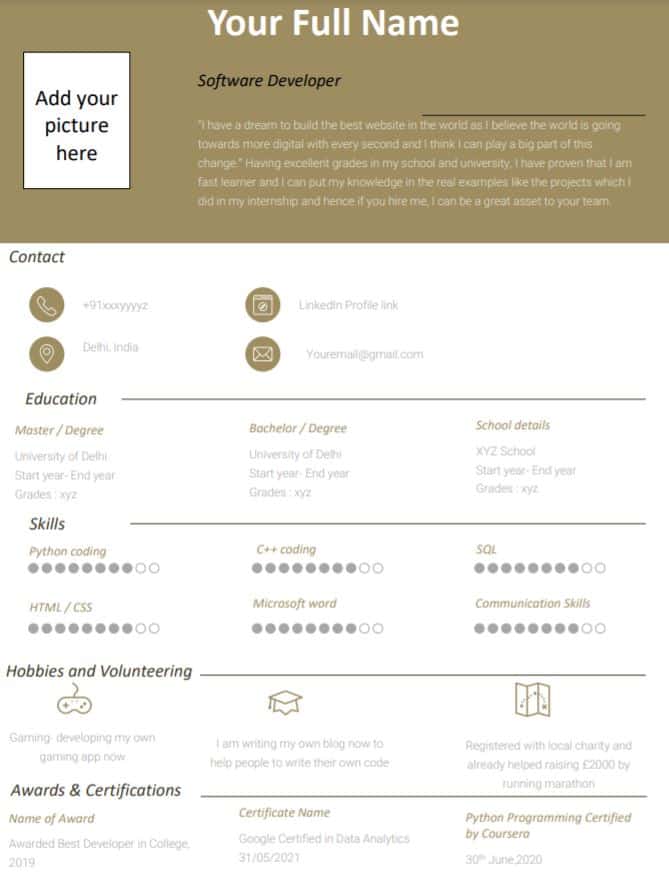 so when i receive traditional cv format versus the new creative cv format i pay more attention to the creative cv template.
#2 Length of the cv
The second important thing is the length of the cv which shouldn't be more than one page as you don't have any experience number.
#3 Professional Picture
Start your professional picture on the top left corner also make sure your linkedin profile has the same picture as your cv picture.
#4 Font
Use simple fonts like "arial" and size 11 or 12 don't use any fancy font.
#5 Format and structure
you should clearly divide sections in bold so that it easy to identify this section is what like this template.
#6 Personal introduction
At the top tell about yourself in few lines what are you capable of doing and what is your aim summarize your offerings and let people know about your skills and background.
say if you are a developer tell them what you like about coding and what is your goal in life so you have to add few punch lines so that people will be interested to check out the remaining section of your cv.
#7 Personal information
As per the new template provide your personal information just below your introduction you just need to provide your phone number which country you are from if you are applying from overseas linkedin profile link and your personal email id.
#8 Education
In this section give details of all the education you have so far like your schooling details name of school year and also your grades then follow up with your graduation or master's degree with the same details.
like name of university or college when you enrolled and when you passed out and then the grades you received.
#9 Core skills
since you don't have any experience it's important to say what your core skills are and how comfortable you are with those skills.
so example if you have said you know python programming language you also need to say how comfortable and confident you are in python with this template you can increase the dots to show your experience.
#10 Hobbies and interest
Make sure you write only those hobbies which are relevant to your job or something which you can translate later into your job.
there's no point in writing something which is not relevant to the job you're applying for
example if you're applying for a developer role you can say that you are developing your own gaming app or even your website.
this will show that your concepts are so clear and you want to put your theoretical knowledge into practice.
and can demo your gaming app or website even during your interview you can talk about blogging and how you want to help others understand the concept of coding this will show that you want to help your team members and help them grow in their role as well.
so think about all the hobbies which you do outside your university and how you can tie up here together for the role you are applying for.
let's talk about volunteering now in the uk market people want to see if you come to the uk how will you contribute back to the society.
so it's always nice to be part of some local charity and share your contribution here like you can raise money for old age home or run a marathon to raise money.
think about it and make sure you add good details here it shows how you can deal with people willing to help without wanting anything in return
and also how you can deal with money and transactions.
#11 Awards or certifications
Make sure to include any awards or certifications done relevant to your job.
example :-
you can be awarded the best programmer of your university or you may be a winner of a quiz also mention any certifications.
which you have done relevant to that job you are applying for like you can say you are a python certified by coursera or udemy.
Resume Writing Tips
I wanted to share five tips before i wrap this video number one always convert your cv into a pdf before applying for a job.
show your transferable skills as much as possible so that hiring managers can see you are doing multiple roles.
when you work in your local charity you can include that as your work experience as you have worked that time but were just not paid so this is a good way to add few months or years of experience to your cv.
nowadays it's easy to study online and also get certified so use platforms like udemy okay or sera to get yourself certified.
also you can start freelancing and you can add your experience in your cv which is counted as real experience in the UK, US, India market.
So I believe this video will help you understand how to structure your cv and how to write your cv and please use this template which i have shown today.
FAQ
Which type of resume is best for freshers?
The functional resume is the best resume format because it can be flexible enough to fit any type of experience you have.
What makes a good resume 2022?
In 2022, resume trends will focus on soft skills like crisis management (think: COVID 19), adaptability, and versatility will matter more than ever.
Also Read –
How to Write a Good Resume for freshers & Experienced
[8+ Tips] How to Make a Resume for First Job
We hope you have liked the How to Write a Good Resume for freshers & Experienced. If you liked this article, then do not forget to share it with your friends and family.
If you have any question or suggestion about this, then let us know by commenting.